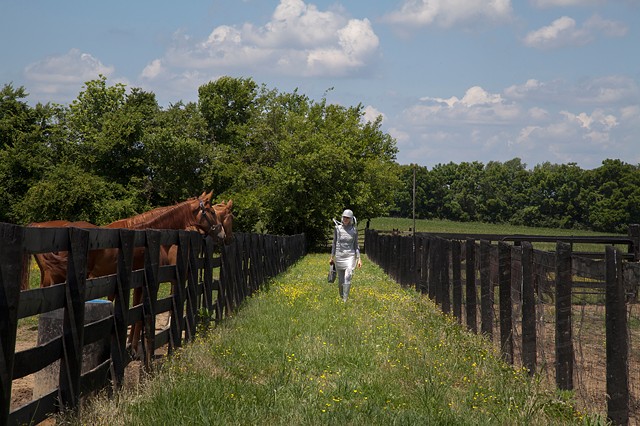 Air Quality at Silver Lining Stables, Louisville Kentucky
Photograph, edition 1 of 6 + 2 A. P. Archival pigment print
20 x 30 inches
2017
«Sweet escape is the Saddlebred :
Louisville is naturally ozone prone
Located in a bowl
It was fine as long as we were horse powered.
Pollen is trapped : did our ancestors react as much as we do?
Born as a portage point on the Ohio river
Now a main hub for airline courriers
Louisville's veins are its elevated highway.
First visit at the begining of April, the air was fine.
Went back at the begining of June and became conscious of my breathing
Felt the ozone alert for the first time
Hid inside downtown until sundown»
The artist, wearing the Air Quality interactive dress, is escaping downtown Louisville, Kentucky, which has a C rating for air quality thanks to transportation, power plants and being in the bowl that is the Ohio Valley. Here we are outside the urban area but still in Louisville at Silver Lining Stables where they are keeping alive the great relationship we once had with horses when one horse power was all we needed. Artist is interacting with American Saddlebred. This breed was referred to as the "Horse America Made".